When it comes to HiFi speakers, the name Wharfedale is certainly not of the first ones that comes in mind. The British manufacturer has been around for 90 years and have created some amazing products over this period but they never had the brand recognition of some other giants like Klipsch or SVS for example. But this hasn't stopped them from creating some memorable speakers that were meant both for the budget conscious and hardcore audiophiles alike. And today in our Wharfedale Evo 4.4 review we will be looking at one of their most popular floorstanders and see what they have to offer.
[h2title]Cheapest Places to Buy :[/h2title]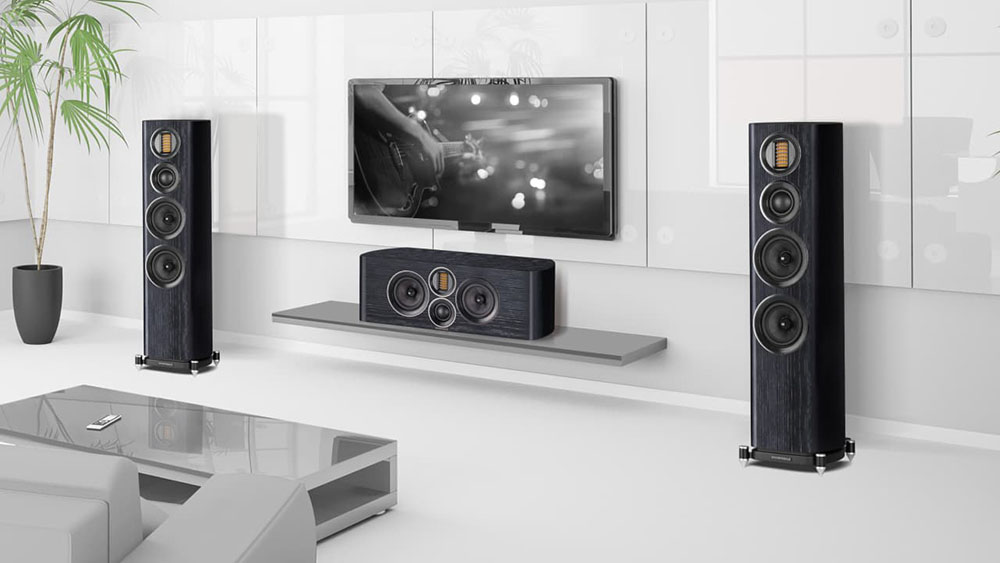 The Evo series is a particularly interesting one. And this is because if you look at their price you can say that Wharfedale wanted these to be within a reasonable price range as each pair comes just above the $2,000 mark. There are obviously much cheaper floostanding speakers in the market but once you see what these ones include in them, then you will agree that the price is surprisingly more than fare. And this is because the Evo series is borrowing a lot of tech found in the company's crown jewel, the Elysian lineup.
The Evo 4.4 is the bigger of the two floorstanders available in the series, with the Evo 4.3 being the other. The speakers include a specially designed AMT, a mid-range dome that we don't usually see anymore in speakers of this caliper, dual woven Kevlar bass drivers and a unique SLPP (Slot Loaded Profiled Port) for better bass output and control. Add to these a nice cabinet design and three lovely finishes and what the Evo 4.4 really represents is the evolution of affordable HiFi speakers.
It is no surprise that the Wharfedale Evo 4.4 have managed to scoop up so many awards lately so we were more than eager to try them out for ourselves and see what they are all about. So without further delay let's start our analysis.
Design, Inputs and Features
Exterior
The Evo 4.4 may be the bigger of the two floorstanders in the series but overall it is not the biggest we have seen in its class. Measuring 41.7″ x 9.8″ x 13.4″ (1060 x 250 x (340+10)mm) and with a hefty weight of 56.4 lbs (22.8kg) these speakers pack a lot in their cabinet and it shows from the moment you try to lift them.
The cabinet itself is marvelous. The Evo 4.4 looks very elegant and Wharfedale made sure to brace and damp it accordingly in order to get the lowest resonances possible. We love how the speakers don't follow the usual boxy design lines and instead they curve towards the back making them distinguishable from most other brands.
The Evo 4 cabinet walls employ a multi-layered sandwich design with soft, high loss chipboard sandwiched between stiff MDF layers. The dissimilar resonance characteristic of each material serves to cancel the other's resonance for vibration and coloration-free performance.
Inside the cabinet, Intelligent Spot Bracing connects opposite walls with a wood brace to further reduce panel flexing and vibration. These braces are precisely modelled by computer simulation to improve upon the commonplace 'figure of eight' brace, which may transfer resonance from one wall to another.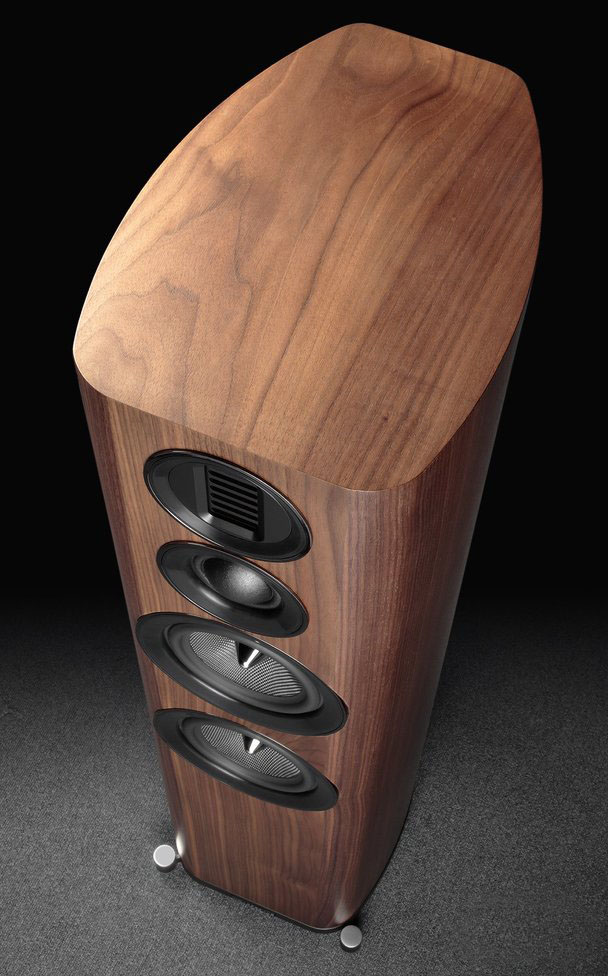 The cabinet edges are contoured to minimize coloration-inducing diffraction. Book-matched real wood veneer finishes all visible sides of the Evo cabinet.
The speakers come in three colors. Black ash, white ash, or walnut. The real wood veneer finishes are great and although we were never generally fond of walnut finishes we can admit that the one on the Evo 4.4 looks magnificent and the best in our opinion from the ones available.
Such beautiful speakers would be a sin to enjoy with the grilles attached so we liked that these are magnetic and as such the front baffle is kept clean of any ugly looking plug holes. But in case you do use them, these are covering the entire front face of the speakers and we would advise you to use them only in case you are afraid not to damage the drivers for some reason.
But the Evo 4.4 is not only about beauty. It's also about state of the art technology. We mentioned above that the Evo series is borrowing many elements from the Elysian series and one of them is the Slot Loaded Profiled Port (SLPP) system. In conventional port designs, when the bass waves abruptly exit into the low-pressure room, air turbulence occurs. This turbulence wastes bass and often causes annoying "chuffing" or popping sounds, sometimes referred to as port noise.
In the SLPP system, both ends of the port tube are flared with a semi-parabolic flange to linearize airflow through the tube. The low-frequency energy is then vented to a slot at the speaker's base, specially profiled to equalize the high internal pressure to the low pressure in the room. This , in theory, provides better bass output with less distortion and noise.
In order for Wharfedale to incorporate the SLPP system into the cabinet of the Evo 4.4 they had to create a specially designed stand which is permanently attached to the main body of the speaker. You only have to add the included spikes when you initially place them. The stand looks really nice and fits the rest of the design while serving its purpose in allowing the SLPP system to breath underneath the cabinet.
Overall excellent work. The speakers looks beautiful, the cabinet is carefully crafted and constructed, the real wood veneer finishes look elegant while the stand, front baffle and grilles all create a design that will appeal to many.
Internal Hardware
The Evo 4.4 is using a 3-way design that comes with an AMT for the high frequencies, a soft dome mid-range driver that takes over from the AMT and dual bass drivers for the low end.
The 30 x 60mm AMT treble unit utilizes a radically different way of moving air compared to a conventional dome tweeter. A large, pleated lightweight diaphragm is driven across its surface by rows of strategically placed magnets. Not only is this an efficient way of moving air but it is also very accurate as the diaphragm is under close control of the motor system at all times. The result is a wide bandwidth transducer that achieves low distortion naturally and delivers better musical detail.
To match the Evo 4.4 AMT, Wharfedale has developed a fast and responsive 2″(50mm) soft dome midrange driver with wide bandwidth thanks to the incorporation of a damped rear chamber. This soft fabric dome, damped with a plasticizer coating, is vented aperiodically into a specially shaped rear chamber that is profiled to scatter and absorb rear energy from the dome. As a result this midrange dome features a linear response from 800Hz to 5kHz.
Thanks to its high flux magnet, the Evo 4.4 midrange dome also has a high efficiency, ideally matched to that of the AMT, enabling it to respond easily and quickly to the dynamics of the sound fed to it. The wide dispersion of this dome and AMT combination ensures minimal loss of detail no matter where you sit.
As for the low end the Evo 4.4 is utilizing the advanced, low distortion motor system developed for the Elysian bass units, coupled with dual 5″(130mm) black woven Kevlar cones fitted with a low loss rubber surround, giving a wide bandwidth driver which is equally adept at producing powerful bass in addition to a natural lower midrange quality. These in combination to the SLPP (Slot Loaded Profiled Port) we mentioned above give the Evo 4.4 additional gains in the lower frequencies without loosing in details or dynamics.
The speakers feature high-grade polypropylene capacitors and laminated silicon-iron and air core inductors, laid out to avoid electro magnetic interference on a specially designed circuit board while an advanced computer modeled crossover has been developed and fine tuned to make sure that the blend between the drive units is seamless.
The combination of the AMT system along with the mid-range dome and dual 6.5″ bass drivers give the Evo 4.4 a frequency response of 44Hz ~ 22kHz (+/-3dB) with 8 ohms of nominal impedance, 89 dB of sensitivity while its crossover frequencies has been set at 1.4kHz and 4.7kHz.
Connectivity
The speakers come with two sets of high quality 5-way binding post terminals for optional bi-wire connection. The terminals are angled, allowing easier access and better wire management.
Performance
Unpacking the speakers was easy but you have to be extra careful due to their weight. Ideally you need another person to help you with that. Packing was good enough with some special foams being added in the middle of the box for added protection. You don't have to assemble anything as the stand comes already pre-assembled from the factory.
Now as far as positioning, Wharfedale suggests they are positioned at least 200mm from the rear walls and 700mm from the side walls, facing slightly inwards. If the speakers are placed too close to the walls the bass will increase but may be boomy and indistinct. If the speakers are placed away from the walls, the inward angle may be increased by up to 40%, although this may restrict the width of the optimum listening position.
We usually try to follow the manufacturer's advice when placing the speakers in our test room but as always this is more of a trial and error process and you have to place them the way they sound best to your ears. As we always do in these tests we left about 2 feet from the back wall in order to give them slightly more breathing space. Distance between the two speakers was around 9 feet.
The speakers we had for testing had very few hours of running time so what we heard was certainly not the best they can give, so keep this in mind also. Most manufacturers do suggest between 50-70 hours of break-in time before speakers can reach their peak performance but we always suggest to wait until around 100 hours to be completely sure that what you hear is what the speakers can ultimately give you.
Now as far as our testing is concerned, for our movies we like to use a simple 4.0 channels surround system with only two front channels and a couple of surrounds and the reason for this is because we can easier determine how the front speakers can cover the omissions of a center speaker and a subwoofer. Weaknesses become more pronounced and although this would not apply to any real home theater system as almost all of them would have both a center speaker and a subwoofer we are here to determine specifically the characteristics of the two front channels and at least for us this is the best way to do so.
On the other hand when it comes to our music testing, as always we like to go for a pure 2.0 channels system with only the two front channels as this is the way that most music purists tend to go with. Now after all necessary connections and calibrations with our Marantz AV receiver we were ready to begin.
Movies
For this review we chose to try out Prometheus in 4K UHD which packs an excellent lossless DTS-HD Master Audio 7.1 surround track. It may not be Dolby Atmos or DTS:X but since we don't use any height speakers for this test it wouldn't make much of a difference.
The Evo 4.4 felt right at home due to the expansive nature of Prometheus landscapes and they were remarkably able to render the grand size of each shot. From the opening scene it was made clear that these speakers have enough low end power that we don't usually see in setups without a subwoofer. The waterfall scene with the massive spaceship above gave the speakers the opportunity to flex their bass muscles and pushed the lows with enough energy and thump.
During Prometheus journey the speakers would faithfully render all electronic sounds emitting from the spaceship monitors with enough detail and clarity. Even without a dedicated center speaker the Evo 4.4 did a decent job at keeping the dialogue front and center and never mix it with the rest of the audio sources.
When Prometheus landed on the alien planet we once again got a taste of what these floorstanders can do with the bass. Obviously you shouldn't expect them to pressurize your room the same way as dedicated subs can do but again we are not comparing the two and in reality the Evo 4.4 managed to perform much better that what many other floorstanding speakers we had tested were able to give us.
Particularly amazing were the sound reverberation during exploring the alien caverns and the subterranean spaceship. You could sense the voices travelling around the room at the front and with the help of our surrounds we got some excellent 360 degrees immersion. It was like the speakers helped to expand each scene making them all the more believable.
During the sandstorm scene you could sense the clarity and attention to detail as the sand particles are hitting the camera. Every sound and each audio source was meticulously rendered in space without any compromises.
The Evo 4.4 is the kind of speaker that can produce large scale sound and that's exactly what we heard with Prometheus. And what is more impressive is that this was done without loosing in clarity. The combination of the dome mid-range cone and the AMT proved to be an excellent pairing giving the speakers the ability to produce excellent resolution and the tinniest of details at the same time.
Similarly the dual Kevlar bass drivers were focused on delivering the lower registers with precision, good authority and plenty of energy. We didn't sense any boominess from the air port or any port noise in general and it showed how much attention Wharfedale put in providing these speakers with the most balanced low end possible without compromising power.
If there is one thing that we did notice was the slightly different treble tone they had from different angles and this has mostly to do with the fact that the AMT has in general a more narrow dispersion pattern. This is not a problem with the Evo 4.4 in particular but it stems from this type of technology. And this is the reason why most probably Wharfedale decided to combine the AMT with a dome cone, in order to allow for the Evo to have a more wide dispersion without loosing much in tonal balance.
In general, everything we heard during this session left us with a smile. The speakers are excellent really, no matter the content you throw at them. Either it be some dialogue driven moments, action scenes, grand stages or more delicate scenarios the Evo 4.4 can do them all with a level of quality that will put a smile on your face the moment you realize the price tag these come with.
Obviously you can get speakers for your home theater that can do better, but at what price? From what we heard you will have to dive much deeper into your pocket to get any meaningful upgrade over these and for this reason we believe that the Wharfedale Evo 4.4 is what we would call value for money although it's not very often you see this phrase when talking about speakers costing close to the $2,000 mark.
Music
Last test for the day is all about music so we switched to a pure 2.0 channels audio setup with only the two front speakers connected and we streamed a selection of FLAC music tracks through the front USB port of our Marantz receiver.
The speakers proved very capable with music and had a very warm tone that we immediately fell for. The stage in front us had excellent energy, and with very good transparency as you could close your eyes and sense every sound position in space with precision.
The speakers in general are very easy going without being dull. They may not wow you in seconds like some other brands but on the long run this may be a blessing in disguise as this will allow you to appreciate them over long periods of time with feeling fatigue. Also with their more natural sound it makes every session more about relaxing and simply hearing the music rather than trying to analyze every bit of sound information reaching your ears.
On the low end the speakers are really impressive and can pump some serious bass from these two 6.5″ Kevlar cones. And this is where you have to be a little careful as these speakers do require good positioning otherwise you may find the bass a bit overwhelming and overpowering the rest of the audio which can make the entire performance a mess.
Maybe this is the only real weakness we can say about these speakers really. Treat them well with correct positioning and pair them with some good electronics and they will give you an experience you can hardly find in this price. On the other hand poor placement and any cheap amplifier will really throw them off balance and negate any real strength they really have both in the high end but mostly in the lower registers.
We do like to try different genres with each speaker we test and in a similar fashion we put the Evo 4.4 through various music genres from classical music, to heavy metal, rock, country, pop and jazz and they seemed to behave similarly across the board. Good output, high resolution, attention to detail and precision all grouped in a very warm and pleasant performance.
The Wharfedale Evo 4.4 are excellent speakers for music really, there is not much else to say there. They are easy going, with good tonal balance, lovely highs, punchy bass and tight mid-range. And if you pair them with some good amplifier then they will surely appreciate it and offer you an experience that you don't easily find with this price tag.
Final Thoughts
This is the first time we test a Wharfedale speaker by ourselves and although we knew the brand from before experiencing it really made us appreciate the efforts of the British manufacturer even more. The Evo series was meant to be a more affordable solution than the Elysian series was and we believe that Wharfedale did manage to make this a reality. By getting many of Elysian's advanced technologies and packing them into a more affordable package was surely a recipe for success.
First of all, the Wharfedale Evo 4.4 is one great looking speaker. Design wise it is distinguishable from most other speakers in its category while a lot of thought and engineering went into it in order to provide it with the tools necessary to perform as good as it does. The three wood veneer finishes available make them look even more premium than they really are while in terms of performance there is nothing more we can say that we didn't mention above. They did amazingly both in our movies and music sessions and it is an excellent HiFi speaker for anyone looking for something better than just the basics.
We like the speakers so much that we really struggle to find anything bad to say about them. The Evo 4.4 surely is meant for big rooms. And this because the closer you put them to a wall the more overpowering the bass will be over the rest of the audio. Also due to the use of the AMT the treble may sound slightly different from different angles but this was very subtle and not something to be bothered about. Lastly the speakers ask for good placement and good electronics. Only then they will perform to their best therefore we would mostly recommend them if you know your way around amplifiers and how to position them correctly.
Closing our review we can say that the Wharfedale Evo 4.4 is the kind of speakers that if treated correctly they will outperform many other speakers in the same price range. They have the quality, attention to detail and ample low end power that you don't find often in this price tag. Surely in order to give you all these they need to be handled with care. Treat them as you would do your girlfriend (or boyfriend for that matter) and they will return the love tenfold!